Fruit salads are so last summer. Simply putting some fruit in a bowl and eating it with a fork is not enough anymore. If you want to jazz up your fruity summer treats, here are some great recipes to up your summer fruit game.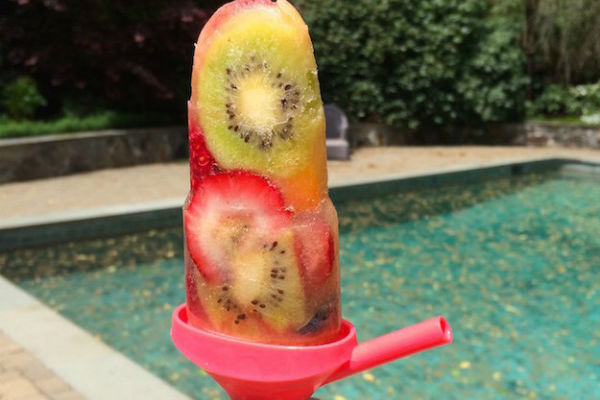 Bomb fruit popsicles
All the refreshing taste of popsicles without all that added sugar, this easy treat is a must for any freezer. The best part is that you can make them any flavor you want, all you need is fruit and fresh fruit juice. Slice up your fruit and mix some berries in for good measure. Arrange the mix inside popsicle molds and pour your favorite juice until you fill them up. Now stick them in the freezer and wait around six hours until they are frozen solid. These are perfect to make once and keep in your freezer for those moments when you are screaming for ice cream but still want to avoid extra sugar.
Banana blueberry vegan ice cream
Speaking of ice cream, you can make it yourself using only two ingredients. Slice up two bananas and stick them in the freezer overnight. Put the banana slices in a blender, add half a cup of blueberries and blend away until you get a smooth, uniform consistency. Keep it in the freezer and munch away while watching Netflix. You can make other flavors by replacing the blueberries with other fruits and even adding cocoa powder to make chocolate ice cream that is way healthier than Ben & Jerry's.
Leftover fruit smoothie
Whenever you go overboard and buy way more fruit than you are able to eat, you can save some to make leftover fruit smoothie. Before your fruit goes bad, grab those you know you won't eat, slice them up and freeze them. Next time you are craving fruit, take your frozen slices out, mix them with some fresh fruit and add a tablespoon of honey if you want to sweeten the deal. Now blend them with some fruit juice until you reach perfect smoothie consistency. You can mix up the ratio of fresh and frozen fruit to get the texture you want, remember that the more frozen fruit you add, the thicker the smoothie will be.
Two ingredient berry jam
This is the easiest jam recipe ever. It only takes an hour to make and it will result in delicious homemade jam you can keep to eat on breakfast toast or give as a gift to impress people. You need two cups of fresh raspberries, blueberries, cranberries or any kind of berry you want. You can even mix and match. Put them in a pot on medium heat and mash them a bit so the juice come out. Depending on the texture you like, you can turn them into complete mulch or not. Cook them until they have a uniform consistency, then add one cup of sugar without taking the pot from the fire. Try to add the sugar slowly while sprinkling it over all the berries, but trying to avoid the sides of the pot. Stir and cook the mixture together until it has reduced by ¼ of the original volume.