Looking for a way to revitalize your garden? Try furniture. And I don't mean your typical patio chairs and plastic table. Oh no! Instead of throwing away old furniture (or sell it for 89 cents at your next garage sale which is hardly a deal), recycle it and give it new life in your garden!
All you need is time, some paint and a creative mind to turn old, run down furniture into a breathtaking garden decoration. Play with your live plants and flowers, combine traditional pots with repurposed pieces and add pebbles, rocks and other natural elements. You would be surprised at the dreamy landscapes you can create just by adding some flowers to boring old chairs.
For example, if you happen to have old musical instruments that are broken, or that nobody plays at home and you are needing the indoor space, turn them into outdoor planters. Pianos are especially good for this, as they can be the center of any garden and you can either place pots and planters on top of it or turn the entire thing into an outdoor planter with cascading flowers. But smaller instruments work just as well, like guitars, cellos and even tambourines. It's all about choosing the right plant size and combine your flowers to create a visual symphony.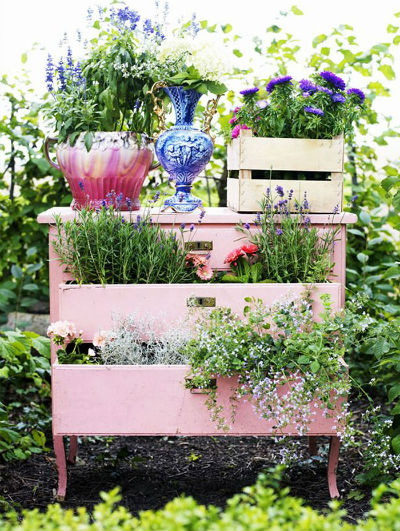 If you are lacking in space but still like to care for plants, use an old dresser to take advantage of your vertical space. Fill the drawers with planters and place a few pots on top of the dresser itself. With the right paint coat and decoration, the dresser will blend perfectly into the garden for a unique atmosphere. Bookshelves, chairs and benches can work for this purpose as well. Redoing your bathroom and not sure about what to do with the old bathtub or even toilet? Get them cleaned and polished and turn them into planters as well!
If you are going to turn indoor furniture into outdoor pieces, though, you need to know how to protect the wood from the elements. Before treating the piece, sand it down until you reach bare wood, so the treatment can adhere properly. Use an exterior primer and make sure not to leave any wooden surface uncovered. Let it dry and paint with exterior latex paint. Colored paint works better at protecting the furniture from UV rays, and multiple coats will do a better job at protecting the piece from moisture. For a natural look, choose spar varnish with UV protection and apply multiple coats of it.
If you get a choice, use furniture made out of rot-resistant wood, like cedar, teak or redwood. And keep in mind that you will need to re-coat your furniture at least once a year or two, especially if you live in an area with harsh climate. Use glides to raise the wooden furniture off the ground and keep it from rotting in rainwater to make it last longer as well.