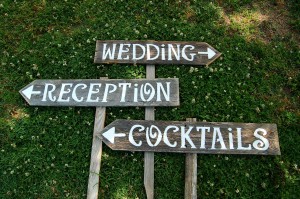 Weddings can be so much fun. I say that as a guest. As the bride getting married, well, the wedding can be hectic. Oops, I meant to say delightful. My favorite part of the wedding is the wedding reception because we get to eat the cake. If you are having difficult times saving money because you want an elaborate reception, then do what I did. What did I do? I had an eco-friendly wedding reception. Everyone loved it. So did Mother Nature.
Here are some ways to celebrate with eco-friendly wedding reception ideas that will make your guests happy and your wallet as well.
Bamboo plates are a better choice than ceramic plates because they are biodegradable. Bamboo plates are cheaper than ceramic plates.
Forget about using fancy table cloths. Just showcase the natural wood on your event tables. You can also use wooden tree stumps as seats.  You can also use hay bales and then let the horses eat them once you are done using them.
Instead of festive lights why not use candles to light up the beautiful reception. You can also use paper lanterns and hang them around the venue. Use those battery powered tea lights.
Use herbs as center pieces. Place little scissors next to them and let the guest cut their own fresh herbs. You can even ask them to take them home to plant them.
As place card holders you can use seed packets so the guest can continue the eco-friendly trend once they get home.
You will have less food waste with family-style meals. Opt for having a buffet type dinner setting. It will be cheaper and people are more likely to eat what they like and not play around with the food they are served. Who eats mashed peas anymore?
Do not spend money on a limo to arrive at the reception. Use a canoe if it is a riverside reception or use a horse. You can also find a venue that is walking distance from the ceremony.
Reuse the ceremony decorations at the reception.
You can use recycled glass jars to hold flowers or soy candles. Put a candle inside and you've just turned them into mini table lights.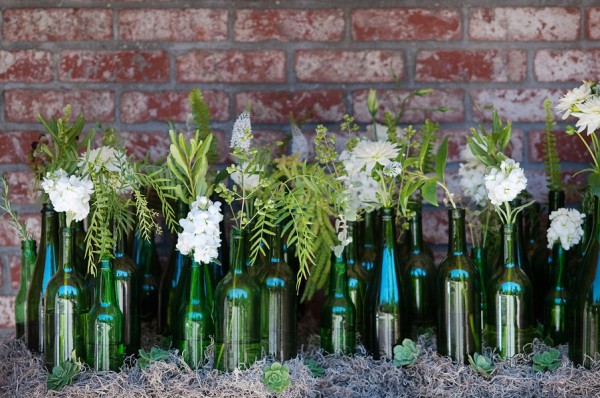 Use planted orchids or topiaries for flowers to decorate with. The guest can take them home as a party favor or you can use them in your garden afterwards. Cut flowers are not eco-friendly.
Buy local food from farmer's markets. Why? It is cheaper, fresh and easier to order more in case you run out.  Make the serving size small since there will be lots of food to go around.
Have guests write their names on stones to use later in your garden. It is a nice wedding memory.
Your cake better be organic all around. That's the way you turn a regular boring  cake into a green one, without using food coloring.
Toss the bouquet and party! Now that your reception has gone green and everyone seems to be enjoying themselves, it is time for you to smile. Why? You got married and also stayed eco-friendly on your special day. Keep these ideas in a scrapbook for your future children to use in their weddings.