Thinking about shaking up your diet? C'mon, we're all desperate now that summertime is right around the corner! And the many nights we've spent binge eating while watching Netflix finally caught up to us. So something needs to give! That's why smoothies are a quick and easy way to get all the nutrients you need in one delicious glass. These recipes are perfect for breakfast or an afternoon snack. They will give you an energy boost and keep you healthy while doing some real damage control to your body.
1. Spicy green tea – For a fantastic afternoon pick-me-up try this energizing spicy green tea smoothie. Brew a strong cup of green tea and chill it. Ad just a tiny pinch of cayenne pepper, three tablespoons of lemon juice, two teaspoons of agave nectar, two tablespoons of plain yogurt (fat free is better) and one small pear, with the skin, cut into pieces. Blend everything until smooth (you can add some ice cubes) and drink it cold. One cup will get you 3 grams of fiber, it will boost your metabolism and it will keep your appetite in check.
2. Banana and maple – This is the ultimate breakfast smoothie. Slice half a banana, add half a cup of low-fat yogurt (maple works best), add one tablespoon of natural maple syrup and two tablespoons of pecans and a dash of grated nutmeg. Blend it all with one quarter cup of ice until it reaches a uniform texture and enjoy. This treat will energize your morning and will provide 250 mg of potassium, 3 grams of fiber and a good chunk of proteins. Not to mention it's sweet and delicious so it will help you start your day in a great mood.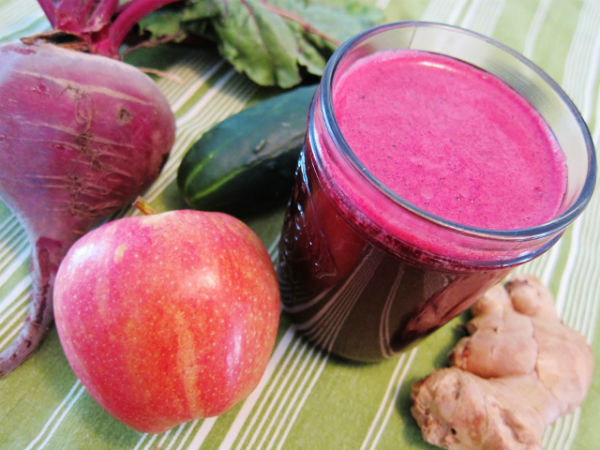 3. Beet, apple and ginger – This naturally sweet treat packs more nutrients than you can count. Blend one large beet, one cucumber, one apple and as much grated ginger as you like and serve cold. One glass of this brightly pink beverage is rich in potassium, iron, folic acid, vitamin C and beta carotene. Besides, it includes a good amount of fiber too help your body work regularly.
4. Peanut Butter Cup Smoothie – For those times when your sweet tooth demands a sugary treat, try this smoothie instead. Mix one cup of sliced banana, one cup of 1% chocolate low-fat milk, half a cup of vanilla low-fat frozen yogurt, 8 ounces of vanilla low-fat yogurt and two tablespoons of natural peanut butter. Blend everything together and serve very cold. This recipe yields around 3 cups, so you can either share or save some for later. It is low-cholesterol, low sodium and 201 calories per cup. It tastes just like a candy bar, but it will give you protein, calcium, potassium and fiber that you need to keep yourself healthy.
5. Vitamin punch – Combine one medium apple, two medium soft pears and half a cup of pit-less cherries. Blend until smooth and add ice if you want for a quick and healthy drink. One cup of this delicious smoothie contains vitamin A, B, C and E, to benefit your whole body. Besides, Lutein and vitamins A and C increase collagen production, which will keep your skin look younger for longer.